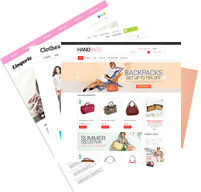 We offer best solutions for Fashion Website Design in Sydney, Brisbane, Melbourne, Perth and Across Australia. Get your eCommerce Website and sell your products online.
Present products in their best light with unlimited subcategories and attributes, suggested selling, flexible promotions, coupons, gift vouchers, gift card, specials, reviews and more.
We as fashion website designers offer web based admin panel which allows you to easily maintain the store. No need to bother with site maintenance fees. You can add products, delete products, change prices, run your own affiliate program etc.
We specialize in website design, development and search engine optimisation for Fashion Website Design in Sydney. Please check our portfolio for website designs we created.
For best fashion website designs Call us on 1300 889 404 or request FREE QUOTE for Fashion Website Design.
With each website design you will get:
Unique Custom Design
Unlimited Products & Categories
Multiple Payment Options
XML Google sitemap creation
Search engine friendly design
Free first year hosting

E-Commerce Shopping Cart
Google Analytics Setup & webmaster account setup
Multiple Shipping Options
Website submission to major search engines
Free 3 months support
Available options & features comparison:
Basic
Unlimited products & categories
Products Options & variants
Automatic Inventory Control
Real-time Shipping Estimator
One page checkout
Membership Level Access
Search Engine Friendly Links
Multiple images per product
Multiple Languages
Multiple Currencies
Return Merchandise System
Newsletter Management
Order Tracking
Product Search
Product Filter System
Tax Calculation
Customer Grouping
Separate Pricing Group Based
Quantity Discount
Reward Points System
Content Management System
Animated Banners
Comments & Reviews
Gift Certificates
Smart phone & pads access
QuickBooks Integration
Product Image Watermarking
Wish List
Statistics – Basic
Social Medial Linking
Products Import & Export
Affiliate Program
Professional
Unlimited products & categories
Products Options & variants
Automatic Inventory Control
Real-time Shipping Estimator
One page checkout
Membership Level Access
Search Engine Friendly Links
Multiple images per product
Multiple Languages
Multiple Currencies
Return Merchandise System
Newsletter Management
Order Tracking
Product Search
Product Filter System
Tax Calculation
Customer Grouping
Separate Pricing Group Based
Quantity Discount
Reward Points System
Content Management System
Animated Banners
Comments & Reviews
Gift Certificates
Smart phone & pads access
QuickBooks Integration
Product Image Watermarking
Wish List
Statistics – Basic
Social Medial Linking
Products Import & Export
Affiliate Program
Advanced
Unlimited products & categories
Products Options & variants
Automatic Inventory Control
Real-time Shipping Estimator
One page checkout
Membership Level Access
Search Engine Friendly Links
Multiple images per product
Multiple Languages
Multiple Currencies
Return Merchandise System
Newsletter Management
Order Tracking
Product Search
Product Filter System
Tax Calculation
Customer Grouping
Separate Pricing Group Based
Quantity Discount
Reward Points System
Content Management System
Animated Banners
Comments & Reviews
Gift Certificates
Smart phone & pads access
QuickBooks Integration
Product Image Watermarking
Wish List
Statistics – Basic
Social Medial Linking
Products Import & Export
Affiliate Program